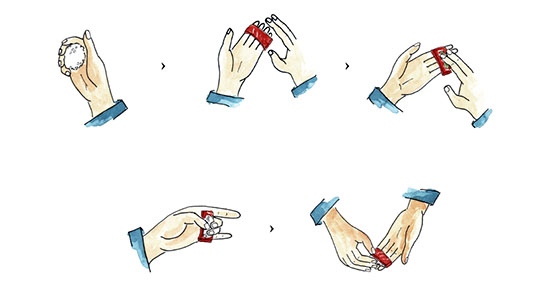 Most of the equipment one needs for making sushi can be found in the average modern kitchen. Only a very few specialized tools are needed; these include a sharp sushi knife, a bamboo rolling mat, and an electric rice cooker. On the other hand, it can certainly enhance the pleasure and the aesthetic experience inherent in preparing sushi if one acquires some Japanese kitchenware and a few authentic tools.
A Japanese proverb has it that women's hands are too warm to make sushi. Hence, there are only male sushi chefs. This is of course complete nonsense. But it is true that the sushi chef needs an abundance of cold, clean water. Preparation of sushi also requires patience and a certain amount of practice in cutting up fish and shellfish, in cooking rice, and in designing and shaping the different types of sushi.
Sushi and sashimi are arranged on platters and trays, in bowls and on wooden planks, and even in small boats. The combination of the individual items, the harmony of their colours, and the overall presentation are a study in wabi sabi. The arrangement of the various elements and their aesthetic appeal are just as important as the food itself. It is not about heaping things on a plate, but rather about respecting the spaces that are left empty.